El Lagar de Soto Premium BiO is an exclusive selection of the best organic extra virgin olive oil produced from our olive trees that are organically grown by traditional dryland methods.
Its production is very limited. Among others it holds the European Organic Agriculture UE Organic Bio certificate (ES-ECO-021-EX)
.
It is produced cold from the first extraction immediately after the collection of the fruit at the beginning of each season -ENVERO COLLECTION-, mainly by manual harvesting, and wherever possible mechanically with an umbrella to stop the olives falling to the ground. They are crushed at a controlled speed.
The olives of the manzanilla cacereña variety are from organically grown olive trees with no chemical waste. During the whole process we use no fertilisers or other chemical synthesis products and no herbicides, pesticides, etc., ...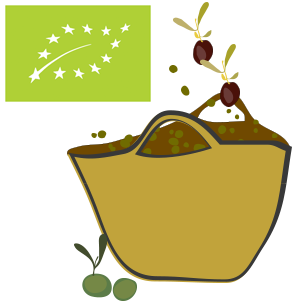 This pairing of Manzanilla Cacereña (the perfect variety) and its gathering by hand at just the right moment give El Lagar de Soto Premium BiO perfect organoleptic and chemical characteristics.
These unique and unrepeatable oils explode on your palate with an incredible taste.
Organoleptic Properties
Colour
Yellow with greenish glints, clean.
Aroma
A fruity, intense green olive aroma to the nose with other ripe fruits; grass, apple, wood , and almond, all green. Tomato, banana and nettle plants.
Taste
Initially sweet in the mouth with a bitter and spicy balance and a hint of astringency.
A complex and harmonious sensory experience
Other Caracteristics
Product label in Braille.
Non-refillable stopper according to current legislation.
Certifications
EU Organic Bio (ES-ECO-021-EX).
"Organics Extremadura" Guarantee Brand.
JAS (Japanese Agricultural Standard).
USDA-NOP (National Organic Programme).
Polyphenols
400 mg/kg
Commission Regulation (EU) No. 432/2012:

"Olive oil polyphenols contribute to the protection of blood lipids from oxidative stress".
Tocopherols
(vitamin E): 310 mg/kg
Commission Regulation (EU) No. 432/2012:

"Vitamin E contributes to the protection of cells from oxidative stress".