---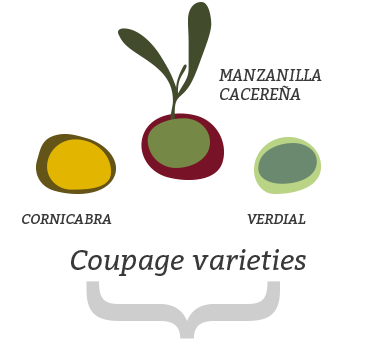 In this coupage -mixture of varieties- the prevailing olive variety used is the manzanilla cacereña, the mark of identity of our products, together with other varieties from Cáceres province in smaller percentages such as cornicabra and verdial.
PAIRINGS I This perfect combination means that the Jacoliva Aove range gives a very special touch to daily cooking.
The Jacoliva Extra Virgin Olive Oil -coupage- is the perfect companion for your daily cooking.
This genuine oil from our selected olives is produced at our olive oil mill at Pozuelo de Zarzón from a recipe that has been used by our family for several generations.

Purchase access by products:
Main Characteristics
Production
By mechanical processes, 1st cold extraction.
Colour
Yellow with the green glints that are characteristic of the manzanilla cacereña.
Aroma
Average fruitiness to the nose of early-season olives.
Taste
Sweet and very pleasant in the mouth from the beginning with a delicious balance between bitterness and spicyness, complex and nutty.
Acidity
Maximum acidity content 0.5%.
Red Natura 2000
Our olives groves grow in Red Natura 2000.
.
Products from Extremadura
Evoo grown and produced at Pozuelo de Zarzón in the province of Cáceres.
Eco & Health Friendly
The evoo that we produce are committed to the environment and to health. .
Buy Jacoliva Evoo Coupage
Quality
Its high percentage of manzanilla cacereña makes this aove a special product owing to the restricted area where the olives are grown.
Convenience
Receive your order quickly by choosing either a 24h or 72h service.
Security
Your transactions offer security. We use the SSL Thawte encoded security system.